Loving Rietveld 2012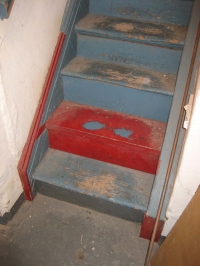 In 1979 Ellen and I purchased a townhouse with a rear carriage house on West 20th Street. The basement had little charm with windows at sidewalk level and cracked concrete floors. The seven feet ceilings were made even lower as steam and water pipes passed overhead en route to upper floors. But it was convenient and available so I set out to make it my studio. I cleaned, painted and built worktables, counters and shelving. I eventually found comfort and retreat in this compressed space. I often worked late at night listening to WBAI radio, so focused on my work that the sound of the early morning rising steam clanking in the overhead pipes came as a surprise.
I enter the staircase down to the studio through a door in our living room. The staircase is my commute, my transition from home to work. Though a very short trip I emerge at the bottom mentally prepared to create art. The wooden stairs are a hundred years old and were in bad repair. Treads were worn and loose and I held on tightly to the banister.
Moving away from my drawing table I took on the project of repairing the staircase. It was a change of scale from small conceptually based works towards a project where function would necessarily outweigh concept.
I cut out the small worn out pieces and with careful precision chiseled, spliced and fit new wood into the stairs. The repairs created a visual patchwork of the old and the new. I painted the staircase with some leftover Dutch blue enamel we had on hand. When I stood back to admire my skillful craftsmanship, my heart sunk. The meticulous repairs were no longer apparen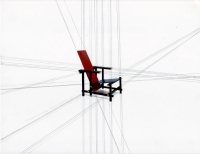 t. My hard work was erased. The staircase was heavy and static.
On the wall I hung a postcard of Gerrit Rietveld's Red Blue Chair, 1917. The original chair built by this Dutch designer was constructed of unstained beech wood and was not painted until the early 1920's at the suggestion of a fellow member of the DeStijl movement.
With red enamel I carefully repainted each of the new horizontal and vertical patches and repaired supports. I titled the staircase Red Blue Stair, 1980.